Those of you who don't worship at the 'digital stills camera used as a video camera' altar like myself might not know that a few years ago Canon brought out a stills camera with a video function. That meant videographers with no money could achieve something much closer to the look of Hollywood productions without having to sell their house to afford the necessary equipment.
These stills-cum-video cameras produce a filmic look but have many downfalls. They are not easy to film with as they are designed to take pictures not video and also have some problems with filming sideways motion or bright backgrounds. And don't get me started on audio. Because of this revolution other camera manufacturers started to create camcorders that can produce the same filmic look within the same price bracket but with the functionality of a video camera. Panasonic have now entered this market with their AG-AF100 camera.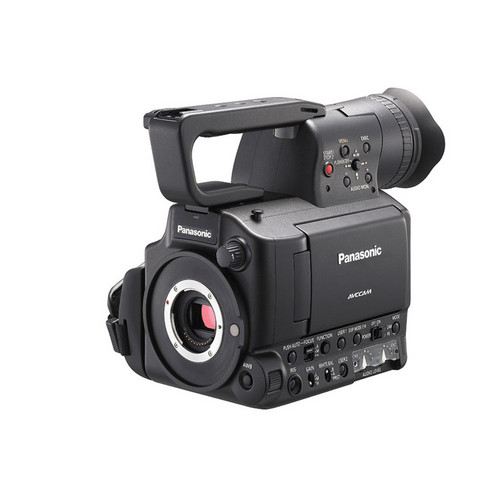 When on the job, I mostly work with Sony models and it's always a leap to change camera brands. But giving the AG-AF100 a run, I found it to be of good build quality and easy to use. The camera has a full set of controls to monitor visual elements such as white balance and shutter and there is also the very useful addition of an ND control that a few camera competitors lack. What this means is that you don't need additional barn doors and a box of filters with you in order to shoot in bright situations.
The camera also has dual XLR audio inputs and audio monitoring capabilities which are painfully needed on the DSLR predecessors. I have sometimes found the audio control buttons on Panasonic cameras cumbersome when used in reactive documentary/reality filming and this was the case with the AF100.
The camera has a selection of outputs so you can attach HD monitors and external drives as well as bars for follow-focuses and other gadgets allowing the camera to be used straight out of the box for the novice, or modified with other kit for the more experienced filmmaker.
One other great benefit of the AF100 is how many types of lenses work with it. By purchasing a lens adaptor you can attach a huge variety of lenses. Panasonic provided a Canon mount that meant I could attach Canon lenses from my 7D which is great for the budget filmmaker with an arsenal of Canon gear.
In terms of the product created by the camera, the Panasonic delivered great filmic looking pictures as well as minimising the dreaded horizontal jelly effect DSLR cameras experience. The model is also small and lightweight.
Interestingly, before using the camera, I wasn't aware of its pricing, and in my head, I wasn't scoring it against my $3,000 DSLR but higher end cinematic camcorders. I was surprised to learn the camera retails around $4,000 putting it within the same price bracket as DSLR models but with all the features of a real video camera, which absolutely makes for a winning combination.