Hold on to your ears, all you thrashers out there in guitar land … there's a new kid on the block. It's one of my best distortion pedals called The Landmine, invented by ex-Supergarage guitarist Mike Palermo, and handmade in Canada. If you're looking for the utmost in grunge and metal sounds, buy this pedal immediately! It is absolutely awesome. I have never heard a more powerful-sounding pedal in my life. In fact, I can't imagine anything heavier than this. It's not built for blues. It's built for angst.
First of all, The Landmine's aesthetics are perfect. It's army green, and it's round. It's about five inches in diametre (a bit smaller than a Fuzz Face). It has a nice hefty feel to it. I'm certain that it doesn't require any delicate handling. It's very solid. I'm also told it looks like a real landmine. I'll take your word for it.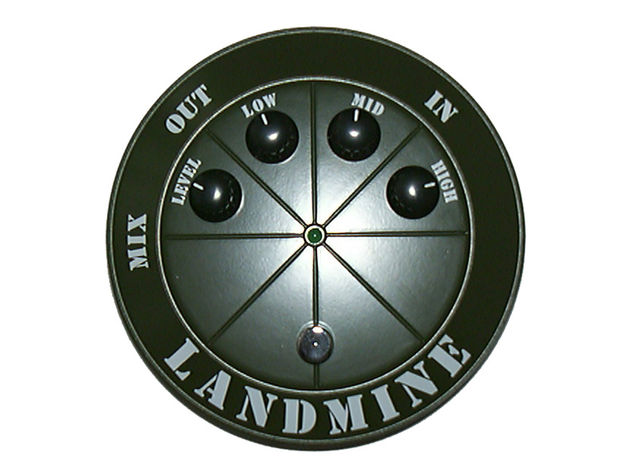 Here's how I tried it out: I plugged my trusty Tele Plus into The Landmine and hooked it up to my blackface Fender Princeton Reverb II. I set the amp volume and tone knobs on 5. That setting gives me a fairly standard Tele-through-a-Fender amp sound. Then I kicked in The Landmine. The level boost is immediately apparent. I found the control pots to be very smooth and responsive. The pedal has four knobs; Level, Low, Mid and High. Of course, these are the volume and tone settings for the pedal, and they work like a charm. Adding more bottom end doesn't mean that you're taking away the top end … you're actually adding more bottom. The same goes for the Mid and High knobs. The Level control is accurate, and by that I mean loud, louder, and Oh My God.
My favourite feature is the Mix jack. It's a speaker cabinet emulator, which means you can plug the pedal directly into the board and still deliver true-to-life heavy-osity. I went directly from my old Yamaha board into my computer software and it was a beautiful thing.
I should also mention the silent footswitch and the LED off/on indicator, as well as the 9 V adapter jack (adapter not included).
Caution: This Thing Rocks!
Pantera, Motorhead, Metallica … all of these huge sounds are at your toe-tips. As a matter of fact, it's nearly impossible to not get an incredibly massive sound from The Landmine, but isn't that why you're playing it in the first place?
Instead of me repeating myself (I'll save that for an echo unit review), I'm going to supply you with a random selection of Landmine owners' quotes. I'll begin by listing The Landmine's features:
Solid Steel Military Housing
Recording "Mix" out for direct recording
The heaviest analog sounding distortion available today
Built like … well, a landmine!
Level, Low, Mid and High knobs
9 V negative-centre adapter jack or 9 V battery
Quick-release battery compartment on bottom
LED On/Off Indicator Built with quality parts and electronics
Size: 5″ diametre x 2″ high (127 x 51 mm)
"The best settings for me (I play metal) are with the low at about 4 o'clock and the mid at about 9 o'clock and the high at about 2 o'clock. I also use the mix out instead of the actual out. It has a lower output and I can control my sound better. I love this option. The dealer told me that I could actually use both outs into two separate amps or use the mix out when I record as a direct out. The Landmine Web site has sound samples so you can hear for yourself. I use an ESP Viper 2005 with a Marshall Valvestate 100 Head and 4 x 12 Cab."
"The pedal is made from heavy steel. I took it apart and it is built like a rock."
"I play metal. The Landmine is a great sounding pedal. It is the heaviest pedal ever, both in weight and sound."
"I play an Epiphone Les Paul Custom through a Marshall JCM900 Head and 4 x 12 Cab. I put the Landmine in front of the amp and I get one of the heaviest sounds I have ever heard. It sounds like my amp has a subwoofer. If you are looking for a Slayer or Lamb of God sound but BIGGER, this pedal will do it. It is a big, heavy and thick sounding distortion."
What more can I say? The people have spoken. I couldn't hear them, though, because I was playing the Landmine at the time. Enjoy!